Ellis King
From LCARS
Ellis King
Biographical Information
Homeworld:

Earth

Species:

Human

Gender:

Male

Birth:

2384 (age 35)

Physical Description
Height:

1.8m

Weight:

76kg

Hair:

Brown

Eyes:

Blue

Political Information
Affiliation:
Posting:
Position:

2nd Division, 2nd Battalion, Alpha Company Commander

Rank:

Marine Captain


Played By:

Aza

[ Source ]
Physical Appearance
Ellis is an average height for a male but very lean and trim but muscular. He usually keeps his dirty blond hair short (slightly longer than a buzz cut). He usually always sporting a 5 a'clock shadow even after he shaves.
When on duty he wears his BDUs or Marine officer uniform. When off duty jeans, t-shirt or a polo shirt and than tennis shoes.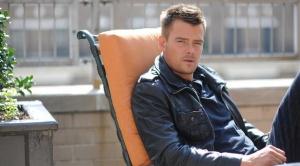 Family
Spouse Sophie Ann King
Children:
Father: Douglas King
Mother: Elizabeth King
Brother(s): Jake King and Nicolai King
Sister(s): Jamie, Celeste and Sarah King
Other Family:
2nd Division, 2nd Battalion, Alpha Company
2nd Division, 2nd Battalion, Alpha Company Command Staff

 

Chief Combat Information Officer (CCIO)

NPC (Aza)

 
 

Company Sergeant

NPC (Aza)

 
 

Company Medical Officer

Tamara "TJ" Johansen

NPC (Aza)

 
 

Marine Intelligence Liaison Officer (ILO)

Vacant

NPC (Aza)

 

2nd Division, 2nd Battalion, Alpha Company Support Staff

 

Drill Sergeant (DS)

Vacant

NPC (Aza)

 
 

Clerk

Vacant

NPC (Aza)

 
 
Personality
Ellis
Languages
Federation Standard and many others
Personal History
The King lineage is a long one dating all the way back to the American Revolution War where the family wasn't exactly patriots or even siding with the crown but were profiteers and hell they still were. With the patriarch of the family having their hands in almost every cookie jar they made fortunes on about everything.
Ellis was born into a large family he was born in the middle between the oldest Jake King (30), than Celeste King (27) and than the three younglings Nicolai King (20) than Sarah King (19) and finally Jamie King (16). Out of all the Kings Ellis and Sarah (when she was old enough) were the only ones who felt the need to serve a higher purpose (besides making a butt load of money).
So at 26 he went off to OCS (Officer Candidate School), basic training and several other advanced courses. Once that was all done he came out as a second lieutenant and platoon leader. He was stationed on Cestus III as part as a peace keeping force.
During his training he met a young Private First Class Sophie Ann Miller (at the time). She was a logistics NCO. After several months they became an item and right before Ellis was deployed to Cestus III he asked her to marry him which she said yes.
The reason for the peace keepers on Cestus III was that the Vanguard was using it as a base of operations i the southern part of Federation space. Very little space activity more of a recruitment, training and supply depot.
At the end of the tour (3 months) his platoon was ambushed by a large group of Vanguard. With his quick thinking and out of the box tactics he was able to push the Vanguard and only suffer minor casualties. And because of that he received a promotion to First Lieutenant and was shortly transferred to the USS Vindicator to lead a platoon under veteran Marine Captain Alex Eberos. Prior to the transfer to the USS Vindicator Ellis and Sophie Ann were married and became Sophie Ann King was promoted to Lance Corporal and was also transferred to the USS Vindicator.
Service Record
Ranks and Promotions