Gabriel Parsons
From LCARS
Gabriel Parsons
Biographical Information
Homeworld:
Species:
Gender:

Male

Birth:

2376 (age 46)

Physical Description
Height:

6' 0"

Weight:

198 lbs.

Hair:

Brown

Eyes:

Brown

Political Information
Affiliation:
Posting:
Position:

Operational Coordinator

Rank:
Played By:

[ Source ]
Biography
Timeline
237603.05 - Born on Earth, New York-Presbyterian Hospital
239406.01 - Graduates from New York University (NYU)
239805.24 - Graduates from Columbia Law School
240009.15 - Serves as a Special Investigator in the United Earth Justice Department
2402 - Made famous during historic the investigation and prosecution of human Ketracel White drug cartel
240312.02 - Accepted to Starfleet's Officer Candidate School
240412.15 - Graduates SF OTS
240411.11 - Assigned to Starfleet Security as an investigator in the Criminal Investigations Division as an Ensign
240506.25 - Promoted to Lieutenant Junior Grade following exemplary service
240511.21 - Promoted to Supervisory Investigator
240604.19 - Serves mandatory active naval assignment pending promotion to full Lieutenant
'240610.11 - Promoted to Lieutenant
240610.11 - Promoted to as Head of Criminal Investigations, Starfleet Security
240807.07 - Promoted to the rank of Lieutenant Commander
240807.07 - Promoted to Assistant Operational Coordinator of Starfleet Security
241006.21-241007.20 - Overseas the debrief Federation and Starfleet personnel involved in the Carida incident
241108.31 - Promoted to Commander and Operational Coordinator of Starfleet Security
Early Childhood
Born to Lewis and Sally Parsons, Gabriel was born in on Earth in New York City on March 5th, 2376. Born only a year removed of the First Dominion War, Gabriel and his family's life were directly impacted by a new since of weakness and general venerability experienced by many Federation citizens, especially Earth-bound humans whose home, the capital of the Federation, had been brutally attacked by the Breen.
Lewis Parsons, Gabriel's father, was in San Francisco the day Starfleet Headquarters was almost completely destroyed by the Breen and, as a Starfleet JAG officer, Lewis was nearly killed while prosecuting a court marshal. Following the events of the Breen attack and the conclusion of the war, the Parsons moved to Sally Parson's, formally Sally Baxter, native New York City to settle and begin their family. Lewis transitioned into a private law firm and Sally returned to administrative duties for the City of New York as they welcomed Gabriel into the family in the Spring of 2376.
Like his mother, Gabriel attended Columbia Grammar and Prepatory school throughout his childhood. While attending, Gabriel was active in many after school activities including captaining the Hockey, Baseball teams and serving as the Editor-in-Chief of the school newspaper.
As an only child, one continually pressured and pushed to become the very best at everything he was involved in, and a student of one of the most selective and pompous schools in North America, Gabriel, at an early age, developed an extremely strong since of competition and self-worth. While this would prove important in many of his scholastic, and later professional, aspirations, Gabriel had many difficulties developing lasting relationships outside official school or activity related functions as a child.
Civilian Career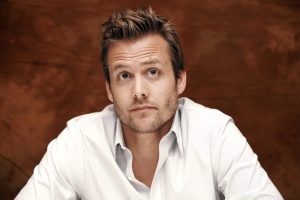 After completing both undergraduate (New York University) and law school (Columbia University) on the island of Manhattan and living within the City of New York his entire life, Gabriel moved to Washington, D.C. at the age of 24 to accept a position with the Federation Justice Department as a Special Investigator. It would be here that Parsons would catapult from promising student to legal phenom, and through the connections gained while serving the Federation that would later lead to entrance into Starfleet.
With help from Starfleet's Criminal Investigation Division, a department Parsons' would go on to direct himself later in his career, Gabriel investigated and prosecuted the largest and arguably most important case of drug smuggling in modern Federation history as he and his team of Special Prosecutors faced locked up a ring of over 100 humans actively peddling kestrecel white on Earth and other human colonies. The public's shock of the severe crime and genuine appreciation of Parsons' aggressive prosecution thew the young attorney into the limelight as he was the object of many FNN specials and interviews throughout the trial proceedings.
However, not soon after his civilian career's watershed moment, Gabriel found himself bored and unimpressed by the workload of a Federation attorney. He had tasted true excitement during the Kestrecel trials and now, buried in simple case work of contract disputes and petty crime, he found himself wanting more.
Starfleet Career
Criminal Investigations Division
Following Gabriel's career uncertainty and a long and emotionally draining argument with his father after a family Thanksgiving gathering about the direction of his career, Gabriel was officially accepted to the Starfleet Officer's Training School in December of 2403. During the next two years Parsons was taught and trained in the ways of becoming a Starfleet officer, and with his prior knowledge of Federation law and his investigative prowess, Gabriel graduated OTS in 2404 and was assigned to Starfleet Security as a Special Investigator in the Criminal Investigations Division (CID).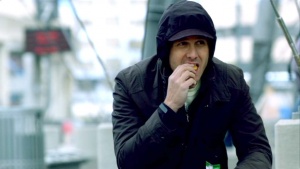 Groomed and raised in the plush Manhattan environment, many following Parsons' first field assignment on Orion IV were more than pleasantly surprised when the new Ensign managed to effectively track and follow more than a dozen current or former Starfleet officers participating in black market arms dealing with the Orion Syndicate in Spring of 2405. Following their arrest and prosecution by Federation and Starfleet authorities, Parsons' was promoted to Lieutenant Junior Grade and was assigned to his first field naval posting aboard the USS Tempest.
Unlike the more glamorous positions Gabriel had enjoyed up to his naval posting, the Tempest provided Gabriel a chance to disappear within the monotony and routine of a Starfleet vessel. Whereas his other roles working for both the Federation Justice Department and Starfleet Security Headquarters sprung him into fame and respect in the eyes of the public and his commanding officers, Parson's time on the Tempest, a relatively short tour of six standard months, consisted of little pomp or circumstance. Doing little to bolster his credentials other than fulfilling a department requirement of a naval posting before being eligible for promotion to full Lieutenant, Gabriel remembers his time onboard the Tempest as the slowest time of his career and painfully stagnant, ironic considering the mobile nature of the position in comparison to his positions on Earth.
Director of the Criminal Investigation Division - Starfleet Security
Almost immediately following the completion of Parsons' mandatory assignment aboard an active naval vessel, Gabriel was awarded with his second full pip, and now, a full Lieutenant. During his transition back to life at Starfleet Headquarters, Parsons' was hand-selected by the then Head of Starfleet Security, Admiral Linda Helspeller to take over the new vacancy of Director of the Criminal Investigation Division of Starfleet Security. Once an investigator inside the subdepartment, Gabriel's insight into the rise in Orion activity offered him special perspective on the reemerging threat of criminal enterprise affecting Starfleet both externally and internally.
Assistant/Head Operational Coordinator of Starfleet Security
Following an impressive streak of 47 successful investigations and subsequent prosecution by Starfleet JAG Gabriel was promoted in both rank and position to Lieutenant Commander and Assistant Operational Coordinator of Starfleet Security, respectively. Now only reporting to the Operational Coordinator, and the Head of Starfleet Security themselves, Gabriel was tasked with many important advisory and administrative duties--none more important than the Carida Incident in Spring of 2410.
Upon the retirement and recommendation of the prior Operational Coordinator in August of 2411, Gabriel was promoted to Commander and to Operational Coordinator of Starfleet Security.
Medical History
No major ailments. Gabriel has broken one bone twice, his left fibula, both during various competitive sporting events.
Psychological Profile
Arrogant and extremely competitive, Gabriel personally attests he has never lost. While many endeavors of Parsons' may not end as planned, his strong sense of self and personal confidence allow him to manage around almost any crisis. However, while such skills proof useful in the professional world and have proven themselves invaluable during his career in law and Starfleet, Parsons' frequently pushes people away with his abrupt and combative personality. Consequences of these traits often manifest in his personal life; his apparent lack of close friends and any kind of stable romantic relationship are proof of such imbalances.
Assignment Record
| | Ensign | 240411.11 | Special Investigator - Starfleet Security |
| --- | --- | --- | --- |
| | Lieutenant Junior Grade | 240506.25 | Special Investigator - Starfleet Security |
| | Lieutenant Junior Grade | 240511.01 | Supervisory Investigator - Starfleet Security |
| | Lieutenant Junior Grade | 240604.19 | Assistant Security Officer - USS Tempest |
| | Lieutenant | 240610.11 | Head of Criminal Investigations Division - Starfleet Security |
| | Lieutenant Commander | 240807.07 | Assistant Operational Coordinator - Starfleet Security |
| | Commander | 241108.31 | Operational Coordinator - Starfleet Security |