Planet Classification
From LCARS
---
[ Main Page ] [ Ranks ] [ Science Department ] [ Starfleet Science ] [ Starship Departments ] [ Starfleet Uniforms ]
---
Acknowledgements
As from:

United Confederation of Interstellar Planets Science Academy Guide
Stardate 239802.26 Ver1.0
Author: Lieutenant Commander Ma'bor Jetrel
Stardate 239808.03 Ver2.0
Updated and compiled by Ensign Ryukanden Suwada
Stardate 239907.14 Ver3.0
Updated by Henrich VonKraus
Stardate 241309.22 LCARS Version
Formatted by: Arcos

---
Planetary Classification.
Planets' natural characteristics, such as age, mass and distance from their sun, place them in 16 naturally bounded classes which have been assigned arbitrary alphabetic designations. Currently extending one more class. A planet's distance from its sun, relative to that sun's luminosity, puts the planet in one of three thermal zones: hot, habitable and cold. Normal Solar System - Planet Distances -- Relative to it's Sun
---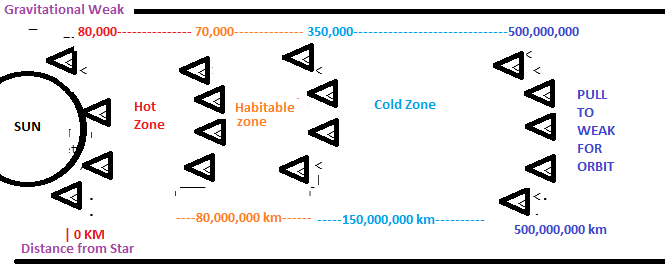 ---
A planet's mass determines its internal heat generation and in combination with its sun, its ability to hold an atmosphere. Some planets pass through distinct stages as they form and age, which may put them in separate classes: One billionth of a second of antimatter with normal matter can emit 20 megajoules.
---
EXTENSION: Due to deuterium's nearly flawless state of merely matter that contains only one variable, antimatter can convert it easier to energy releasing more energy than a more complex matter, even oxygen.)
---
-Class A-
| | |
| --- | --- |
| | Gas Supergiants. Very large, typically 300 to 1000 times the mass of Earth and are in the sun's cold zone. Low solar radiation and high gravity have allowed them to keep thick atmospheres of hydrogen and hydrogen compounds surrounding a smaller solid planetary core. High core temperatures cause them to radiate heat. Similar to Jupiter or Saturn. |
-Class B-
| | |
| --- | --- |
| | Gas Giants. Large, typically 10 to 100 times the mass of Earth, and are in there sun's cold zone. Low solar radiation and high gravity allowed them to keep thick atmospheres of hydrogen and hydrogen compounds. Similar to Neptune or Uranus. |
-Class C-
| | |
| --- | --- |
| | Typically of about the mass of Earth. Located in their sun's habitable zone. Due to the greenhouse effect of dense atmospheres heavy in carbon dioxide, their surfaces are very hot and water is only found in vapor form, if present at all. Could have formed into class M but location was too near the sun in the habitable zone to induce hydrogen fusion. Similar to Venus. |
-Class D-
| | |
| --- | --- |
| | Typically of about the mass of Earth. Located in their sun's habitable zone. They are newly formed, and their surfaces are still molten. Their atmospheres still retain many hydrogen compounds, as well as reactive gases and rock vapors. These planets will cool, becoming class E. These are "proto-planets" in relatively new star systems. Very rare. |
-Class E-
| | |
| --- | --- |
| | Typically of about the mass of Earth. Located in their sun's habitable zone. They are recently formed, and their surfaces are thin. Their atmospheres still retain many hydrogen compounds. These planets will cool, becoming class F. These are "proto-planets" in relatively new star systems. Very rare. |
-Class F-
| | |
| --- | --- |
| | Typically of about the mass of Earth. Located in their sun's habitable zone. They are younger then Earth, and their surfaces are still crystallizing. Their atmospheres retain small amounts of toxic gasses. As these planets continue cooling, they may become class C, M or N. These are "proto-planets" in relatively new star systems. Very rare. |
-Class G-
| | |
| --- | --- |
| | Typically of about the mass of Earth. Located in their sun's hot zone. Their gravity allows them to retain an atmosphere of heavy gasses and metal vapors, but due to strong solar radiation, their surfaces are very hot. |
-Class H-
| | |
| --- | --- |
| | Typically 1 to 1/10 the mass of Earth. Located in their sun's cold zone. They are newly formed, and their surfaces are still molten. Their atmospheres still retain many hydrogen compounds, as well as reactive gases and rock vapors. These planets will cool, becoing class L. |
-Class I-
| | |
| --- | --- |
| | Typically 1/100 the mass of Earth, or less. Located in various parts of their sun zones. Due to low gravity, they have lost their atmospheres. Their surfaces, directly exposed to radiation and meteor impact, are typically lifeless and heavily cratered. Normally planetoids in asteroid fields or moons. |
-Class J-
| | |
| --- | --- |
| | Typically 1/10 the mass of Earth. Located in their sun's hot zone. Due to combination of weak gravity and strong solar radiation, their atmospheres are very tenuous, with few chemically active gases, and there surfaces are extremely hot. Similar to Mercury. |
-Class K-
| | |
| --- | --- |
| | Typically 1/5 to 1/10 the mass of Earth. Located in their sun's habitable zone. Due to weak gravity their atmospheres are tenuous, but water is usually present. |
-Class L-
| | |
| --- | --- |
| | Typically 1 to 1/10 the mass of Earth. Are in their sun's cold zone. Due to a combination of low solar radiation and little internal heat, their atmospheres are permanently frozen as well as the surface itself. Similar to Pluto or a Uranus type climate. Appeared on "The Sound of Her Voice" DS9 |
-Class M-
| | |
| --- | --- |
| | Typically of about the mass of Earth. Are in their sun's habitable zone. Their atmospheres contain significant oxygen, nitrogen and liquid water is a significant surface feature, and lifeforms are abundant. With more water, they would be class N. Earth or better know as Sol III is class M Basic universal planet with lifeforms. |
-Class N-
| | |
| --- | --- |
| | Typically of about the mass of Earth. Are in their sun's habitable zone. Their atmospheres contain significant oxygen, liquid water cover over 97 percent of the surface, and lifeforms are generally abundant. With less water, they would be class M. During the planet's formation less hydrogen left the surface. If both oxygen and hydrogen left in few amounts it would be Class C Similar to Romulus's inhabited moon, Remus. (note: image pictured shows a single land mass... in most cases the planets have very, very little land. It may compare to Risa) |
-Class S-
| | |
| --- | --- |
| | Gas Ultragiants. Typically 10,000 times the mass of Earth, and are in their sun's cold zone. Low solar radiation and high gravity have allowed them to keep thick atmospheres of hydrogen and hydrogen compounds. High core temperatures cause them to radiate visible light. These are the largest possible planets, as more massive bodies would collapse upon themselves to form into stars themselves. |
-Class T-
| | |
| --- | --- |
| | Gas Supergiants. Typically 3,000 times the mass of Earth, and are in their sun's cold zone. Low solar radiation and high gravity heave allowed them to keep thick atmospheres of hydrogen and hydrogen compounds that surround a solid core. Infrared radiation is present due to high core temperatures, which cause them to radiate enough heat that liquid water is present. |
-Class Y-
| | |
| --- | --- |
| | Gas Supergiant. Typically 300 to 1,000 times the mass of Earth. Located in their sun's hot zone. Very similar to class C but it's greenhouse effect caused solar wind to trap within it's thick atmosphere to form thermionic storms. Contains sulfuric and volcanic gases. Very inhospitable to all lifeforms and can degrade any protective suiting within hours. Nicknamed "Demon-Class". |
---
[ Main Page ] [ Ranks ] [ Science Department ] [ Starfleet Science ] [ Starship Departments ] [ Starfleet Uniforms ]
---
Acknowledgements-Images:

Class C:(Websearch) "http://www.celestiamotherlode.net/catalog/venus.php"2004. celestialmotherlode.net
Class I: (websearch)"http://whoyoucallingaskeptic.wordpress.com/2009/08/15/full-moon/" 2009. Wordpress.com
OTHERS:(Modified/screen-shot) "Galactic Civilizations 2" 2012. Stardock Games