Difference between revisions of "Starfleet Command"
From LCARS
Line 104:
Line 104:
 

|-

 

|-

 

|  Director of [[Strategic Operations|StratOps]]

 

|  Director of [[Strategic Operations|StratOps]]

−

|  Vacant

+

| 

 

|  [[Image:R-a3.png|center]]

 

|  [[Image:R-a3.png|center]]

−

|  Vacant

+

| 

 

|-

 

|-

 

|   

 

|   

Line 116:
Line 116:
 

|   

 

|   

 

* Head of [[Starfleet Tactical]]

 

* Head of [[Starfleet Tactical]]

−

|  [[Sabin Scholtz]]

+

| 

 

|  [[Image:y-a2.png|center]]

 

|  [[Image:y-a2.png|center]]

−

|  October

+

| 

 

|-

 

|-

 

|  Commandant of [[Military Assault Command Operations|MACO]]

 

|  Commandant of [[Military Assault Command Operations|MACO]]
---
Revision as of 20:11, 31 August 2011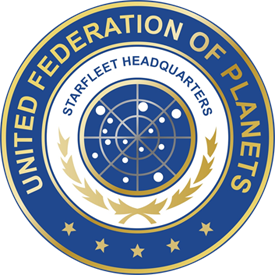 Starfleet Command
With an organization as large and wide-spread as Starfleet, a definite hierarchy exists in the Chain of Command from the new trainee to the starship captains, to the fleet commanders, all the way up to a centralized command staff which itself is headed by a single senior officer. Though Starfleet's command can be traced up to one officer, it takes the entirety of the Starfleet Command Division to actually run the massive and innumerable resources and ventures of Starfleet.
Starfleet is headed by the Commander of Starfleet (or more commonly Commander, Starfleet for short), who is generally nominated by the President of the Federation and confirmed by both the Federation Council and the Starfleet Admiralty Board. The next in line of command is the Chief of Starfleet Operations, who is appointed by the Commander, Starfleet and likewise confirmed by the Admiralty Board, and is generally tasked with overseeing and managing the active fleets throughout Starfleet. Sharing this step in the chain is the Starfleet Chief of Staff, who has the same selection requirements as the Chief of Operations and is tasked with managing the various divisions and departments at Starfleet Command.
At this point the Chain of Command diverges between active Fleet assets, which are commanded by the individual Fleet Commanders headed by the Chief of Starfleet Operations, and all non-Fleet operations resources, which are commanded by their respective Division Directors or Heads under the direction of the Starfleet Chief of Staff. Naturally, there is considerable overlapping between them, and so effective working relationships are expected and encouraged between the section Commanders to ensure the smooth running of Starfleet as a whole.
Chain of Command
Commander, Starfleet

Commander of Starfleet Operations

Fleet Commanders

Sector Commanders

Starship/Starbase Commanding Officers

Starfleet Chief of Staff
Starfleet Command Staff
Division Directors
Government Representatives
Starfleet Fleet Structure
The starships and fleet organizational structure are generally divided into two superfleet groups which are given purview over galactic geographical areas. Alpha Fleet oversees all operations in the Alpha and Gamma Quadrants and includes the individual fleets and subfleets that operate in those regions. Beta Fleet, likewise, includes all operations in the Beta and Delta Quadrants. Both Fleets actually contain several smaller tactical and operational fleets and task forces, but commonly ships and stations operating within a specific region are termed as being assigned to either Alpha or Beta Fleets, regardless of the actual numerical fleet designation.
Individual Fleets are given numerical designations, from which all smaller formation structures base their own numerical designations upon, based on the order of their formation, which often times will also conform to a general regional location as the need for more fleets can be proportional to the amount of territory Starfleet needs to cover. This, however, is usually coincidental and is by no means an operational policy.
So, 1st Fleet would have the designation (1) while a Task Force within 1st Fleet would have a subsequent numerical designation, such as (1.1). A Task Group within a Task Force would share it's parent formation's designation with the added subsequent number, such as (1.1.1). Smaller formations such as Strike or Patrol Groups do not use numerical designations, but rather just their Group names as they are too small to be deployed too far from the parent group in most cases.
Below are the standard Formation guidelines of internal Fleet structures, though quite often situations will require that some exceptions be made to accommodate the circumstances.
| Formation | Abbreviation | Size (Ships) | Command |
| --- | --- | --- | --- |
| Fleet | N/A | 501-1300 | Admiral/General |
| Task Force | TF | 101-500 | Vice Admiral/Lieutenant General |
| Task Group | TG | 51-100 | Rear Admiral/Major General |
| Battle Group | BATGRU | 16-50 | Rear Admiral/Major General |
| Strike Group | STRGRU | 10-15 | Commodore/Brigadier General |
| Flotilla/Patrol | FLO/PTRL | 3-9 | Captain/Colonel |
(This table has been adapted from the Ship Formation Policy on the Enterprise SIM website. We'd like to thank Wolf for writing the original policy and expanding it on TrekOps Division's behalf and for retaining it while Trek Operations has been working to establish this website.)